Residential High-Speed Internet
Watch Communications offers industry-leading residential high-speed internet solutions to keep you and your family connected. If you need rural area internet, look no further! We have the best rural internet options in Ohio, Indiana, Illinois, Kentucky.
We're Your Neighbors!
Local internet provider company, with a strong commitment to customer care, and quick response times.
It's Fast!
Get Watch Communication's high-Speed Internet Data, up to 1Gb.
It's Convenient!
No phone lines needed with Watch Communication's always-on high speed Internet.
Latest Technology!
Watch Communications continues to push upgrades using reliable, state-of-the-art equipment.
What You Can Do
Email
Chat
General Web Browsing
Social Media (not recommended for uploading videos)
What You Can Do
Email
Chat
General Web Browsing
Social Media (can upload videos)
Streaming Music, TV & Movies
Multiple Wireless Devices
What You Can Do
Email
Chat
General Web Browsing
Social Media (can upload videos)
Streaming Music, TV & Movies
Multiple Wireless Devices
Online Gaming
What You Can Do
Practically anything on multiple devices
What You Can Do
Do practically anything on more devices at blazing fast speeds!
*Service speeds and pricing may vary due to location. All plans not available in all areas. Prices listed above are standard retail pricing and does not include any discounts or special promotion pricing. Contact one of our sales representatives at 1-800-589-3837 to determine what services are available in your location.
$5.00 Equipment Maintenance Plan (EMP) and $3.00 router fee will be added to all accounts. The EMP covers all normal wear-and-tear, service call fees, diagnostic services, repairs to equipment leased from Watch Communications, relocation and preventative maintenance checks. EMP does not cover repair of hardware or software purchased by the customer, pre-existing issues, or intentional damage by customer or a third party.
Watch Communications Service Area
Click on the colored regions to view county coverage
Click on the colored coded selections below
to view county coverage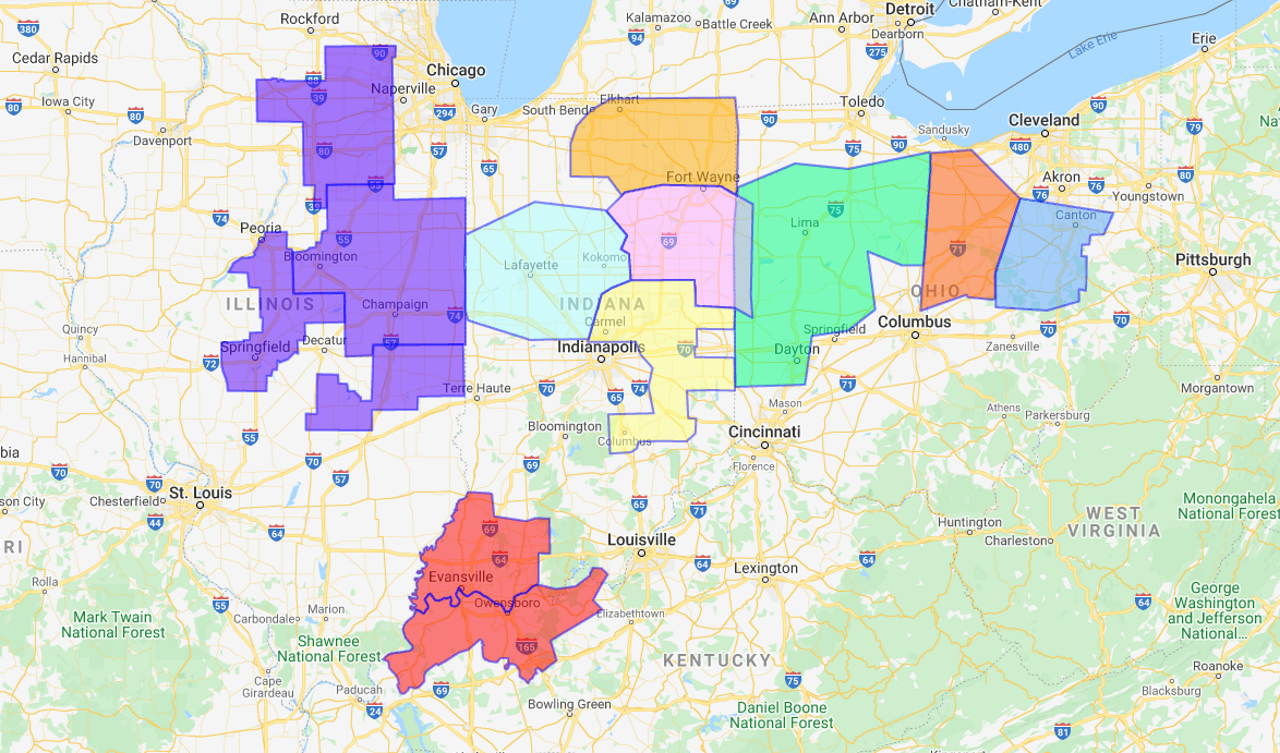 Counties served in Illinois
Champaign
Coles
De Witt
Dekalb
Douglas
Edgar
Ford
Grundy
Iroquois
Kane
Kendall
Lasalle
Lee
Livingston
Logan
McLean
Piatt
Shelby
Tazewell
Vermillion
Counties served in West Central Indiana
Benton
Boone
Carroll
Cass
Clinton
Fountain
Howard
Miami
Montgomery
Tippecanoe
Tipton
Warren
White
Counties served in Northeast Indiana
Allen
DeKalb
Elkhart
Kosciusko
Lagrange
Marshall
Noble
St. Joseph
Steuben
Whitley
Counties served in East Central Indiana
Adams
Blackford
Grant
Huntington
Jay
Wabash
Wells
Counties served in Southeast Indiana
Bartholomew
Decatur
Delaware
Fayette
Franklin
Hamilton
Henry
Madison
Rush
Shelby
Union
Counties served in West Central Ohio
Allen
Auglaize
Champaign
Clark
Crawford
Darke
Defiance
Hancock
Hardin
Henry
Logan
Marion
Mercer
Miami
Montgomery
Paulding
Preble
Putnam
Sandusky
Seneca
Shelby
Union
Wood
Wyandot
Counties served in North Central Ohio
Ashland
Crawford
Delaware
Huron
Knox
Licking
Lorain
Medina
Morrow
Richland
Counties served in Eastern Ohio
Coshocton
Guernsey
Holmes
Stark
Tuscarawas
Wayne
Counties served in Southwest Indiana
Dubois
Gibson
Knox
Pike
Posey
Spencer
Vanderburgh
Warrick
Counties served in Northwest Kentucky
Breckinridge
Crittenden
Daviess
Hancock
Harrison
Henderson
Hopkins
McLean
Meade
Ohio
Perry
Union
Webster
Interested in other Residential Services?
Watch Communications has products and services for every purpose: eLearning platforms, conference & video calls, TV fanatics, streamers, gamers, and sports superfans. Check out the other services we offer.